It is human nature to interact with one another. To share information and experiences. This is in our DNA and fundamental to the human condition. Humanity has been leveraging tools of all sorts for millenia to improve our existence.
Interactive Audio Visual provides tools which empower you to share information, be seen and heard, plus interact and collaborate with one another. Doing this exceptionally well is in our DNA. We blend and balance the technology within your environment in a manner which ensures easy operations and that it helps YOU to use the space. YOU are the priority. Exceptional User Experiences is the objective.
What is Integration – "the act or process (and art) of uniting different things"; What is Audio Visual Integration – "bringing audio and video (and computer technology) together under one solution to provide a seamless and realistic experience".
Interactive Audio Visual provides end-to-end service from concept to execution, plus after sales service and support to ensure that your organization realizes maximum value from the investment in your AV integrated platform.
Be it your office desk space, home or workplace office, huddle Space, lobby to meeting room or boardroom, classroom or auditorium, sports arena or stadium, entertainment venue or Houses of Worship, we have solutions to help. We even help organizations present visual messaging onto the outside of buildings.
Today's professional demands highly interactive and collaborative tools in order to meet, in person or virtually or both simultaneously, to share and consume information or to collaborate with colleagues who may be located in multiple disparate locations all at the same time. These tools are foundational and now mission critical to all organizations to ensure efficiency and productivity. Solutions by Interactive AV are easy to use, reliable and provide an exceptional user experience.
Services Offered Include:
Consultation, turnkey solution design and documentation;

∙

Project Management, Installation, Commissioning

Master Certified Control and Audio DSP Programming

Training

After Sales Service, Support Level Agreements

Remote Monitoring, Reporting and Analytics

Solutions-As-A-Service / AV-As-A-Service (AVaaS)
Applications Include (not limited to):
Presentation & Unified Collaboration: wired and wireless

Huddle Spaces: 2-person to 20-person

Boardroom, Meeting and Training Rooms, Auditoriums

Conferencing: Audio, Video, Web/Unified Communications

Digital Signage, including Videowalls and wayfinding

Room Scheduling

Specialists in Control & Automation

Large Scale Audio Systems

Simultaneous Interpretation

Streaming & Recording

Command & Control, Emergency Operations Centre's

Signal Management, Distribution (AV and Broadcast)

Office & Technical Furniture

Workplace Environment Treatments, Monitoring & Analytics

Covid Protection & Screening Solutions
Interactive Audio Visual is committed to providing YOU with the highest level of service and user experience. In order to continually deliver on this promise, our team members consistently upgrade their skills through several industry and manufacturer training initiatives. We are active and long-time members of key industry associations including AVIXA, NSCA, and USAV/PSA. You can be assured Interactive AV will provide you with the highest quality Integrated Solution our industry has to offer.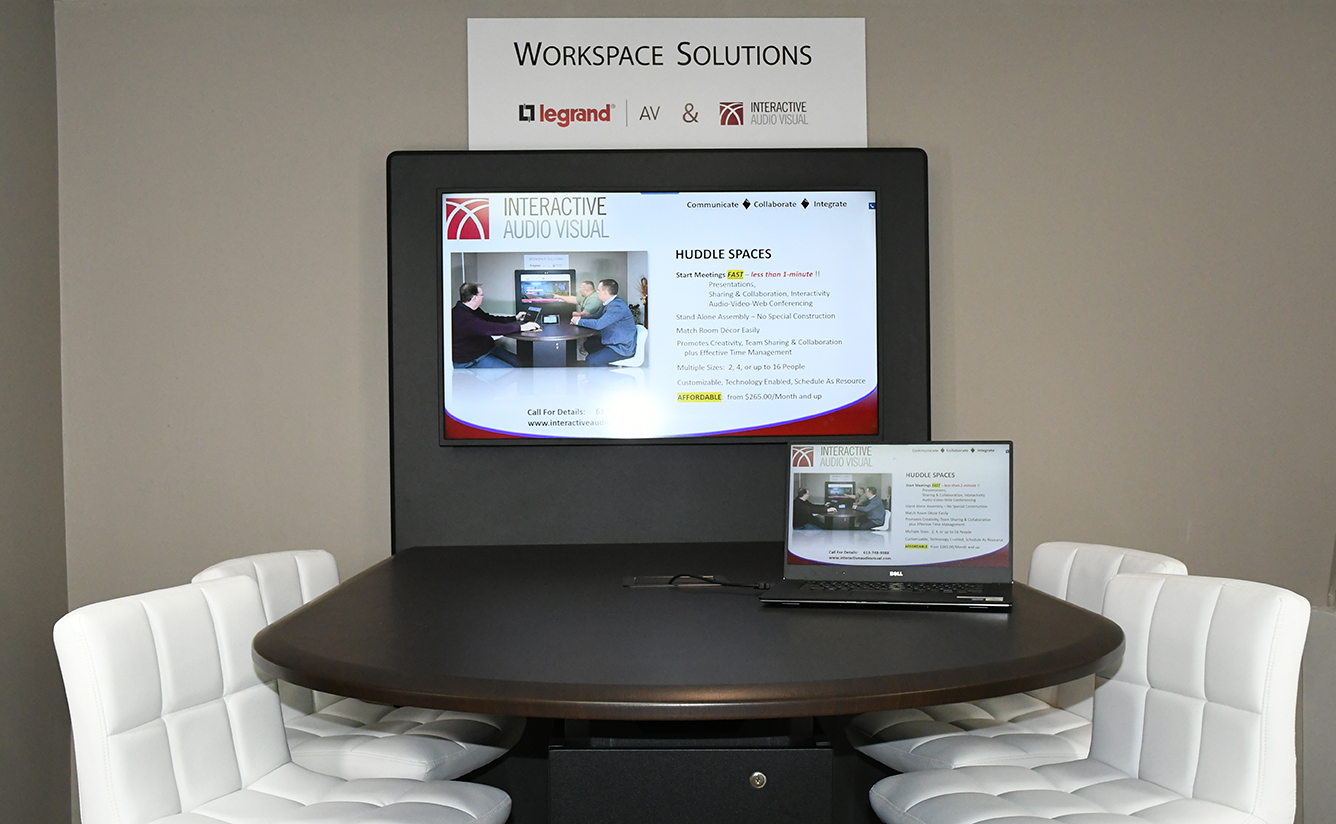 Click to get Quote