Audio: The MOST important aspect of any conference call is audio. Good audio quality is essential for all remote collaboration; be it audio conference calls or video chat sessions. Without good clear audio, the communication can be frustrating and non-productive.
The Poly Blackwire 5220 headset provides serious comfort for all-day use. The noise canceling microphone masks nearby talkers and other unwanted noise while providing crystal clear sound quality. The Poly Blackwire headset can connect to your PC via USB or USB-C, and also connect to your smartphone via 3.5mm connection.
Desktop speakers such as the Poly Sync-20 and the ClearOne Chat-50 are ideal for longer calls, or for those who participate in multiple meetings on a daily basis. These speakers connect via USB or Bluetooth.
Desk top speaker/microphone devices work much the same way, but without being headworn. Better for longer calls or when doing multiple video-chat sessions daily and are Less fatiguing.

| Model | Camera | Mic/Speaker | Price |
| --- | --- | --- | --- |
| WFH-Pkg-1 | Poly P5 Webcam | Poly Blackwire 5220/USB | $235.00 |
| WFH-Pkg-2 | Poly P5 Webcam | Poly SYNC-20 (USB/A) | $309.45 |
| WFH-Pkg-3 | ClearOne Unite-20-USB | ClearOne Chat-50-USB | $329.00 |
| WFH-Pkg-4 | ClearOne Unite-40 (4K) | ClearOne Chat-50-USB | $739.50 |
---
Camera's
Crisp, clear video is the perfect complement to superior sound. These Poly and ClearOne cameras are easy to connect (USB) and use. Each camera has Full High-Definition resolution, as well as basic backlight compensation to offset a bright background such as a window or bright light. Different models have different Field-Of-View (FOV), meaning some show a much wider image of you and your background, whereas others show mostly your face and less background. Some also support up to 4K resolution. Compatible with Microsoft Teams, Zoom and more. These cameras provide multiple

Model
Description
Price
Poly SYNC-40-USB
Poly Sync 40: PC via combined USB-A and USB-C ca-
ble; smartphone via Bluetooth. Poly Sync 40+: PC via

combined USB-A and USB-C cable or wirelessly via
included BT600 Bluetooth adapter; smartphone via
Bluetooth
Call
Poly SYNC-20-BT600
Poly Sync 20: PC via USB, smartphone via Bluetooth.

Poly Sync 20+: PC via USB or included BT600 Blue-
tooth adapter, smartphone via Bluetooth
$265.00
---
Lighting
Lighting helps focus attention on the presenter, plus enables video-chat participants to better see visual cues and read body language more effectively. It is important is to be able to position lighting to avoid facial shadows, adjust colour temperature so colours are depicted as natural and realistic. Good lighting also compensates for images which are too dark due to a bright background, such as lighting from windows behind the presenter, which makes their face dark or almost like a silhouette. Good lighting makes people look better on camera which makes them more comfortable in the meeting.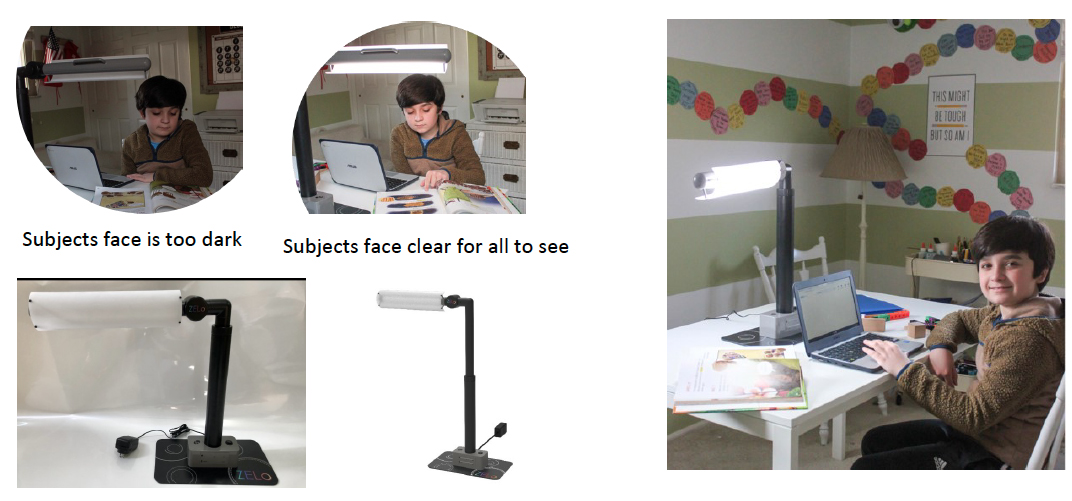 | Model | Part Number | Price |
| --- | --- | --- |
| ZeL-O Light | | $315.00 |
---
Video Conference Backgrounds
Backgrounds provide branding of your organization and can be generic such as a repeating logo, or use custom graphics to depict what your organization offers. Use of physical backgrounds eliminates the "Halo Effect" of virtual backgrounds common in video-chat software. These virtual backgrounds, with their Halo-Effect, tend to cause video-chat fatigue when used for extended periods of time.
Backgrounds can be portable "Pop-Up Banners" in many different sizes, or can be pull-down screens, or even electric screens which descend from ceiling/wall mounted positions. Backgrounds can also be Green-Screens. This way you can display custom branded content using 3rd party software (by others), yet convey very professional appearances still without the distracting Halo-Effect.
Note: Pricing for custom backgrounds may incur costs for creation of custom graphics (by others) as well as printing set-up fees. Call for details.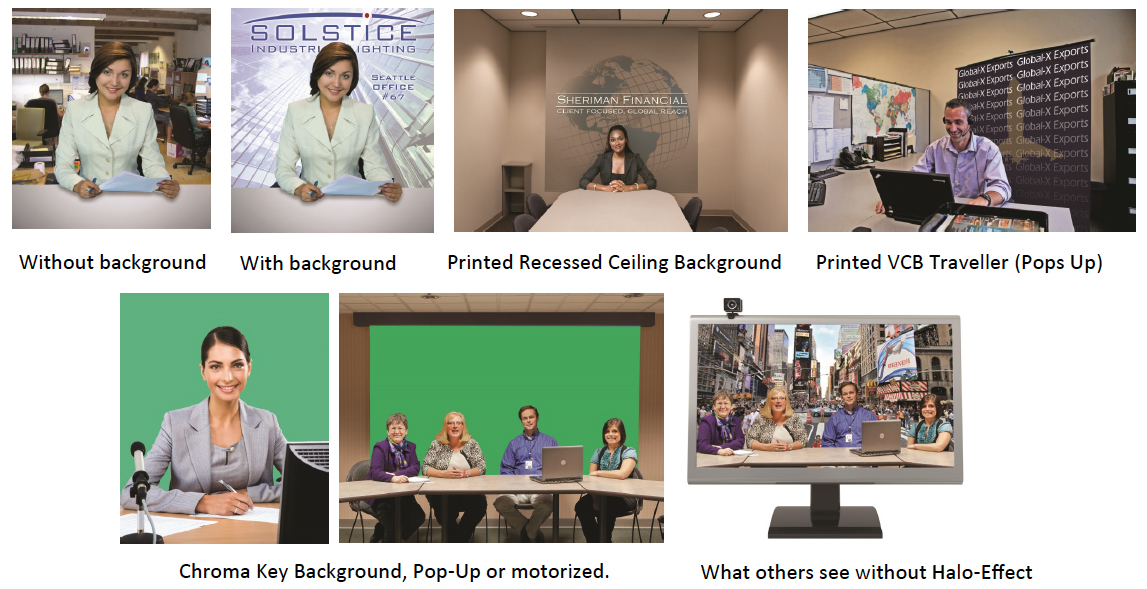 | Model | Part Number | Price |
| --- | --- | --- |
| VCB Traveller | | From $1,430.00 ea |
| VCB Various | | CALL For Options |
| Chroma Key | | CALL For Options |
| Pop-Up Banners | | From $ 500.00 ea. |
---
Training Services
The virtual workplace now requires a broad usage of software based video collaboration solutions. These platforms provide a wide variety of meeting tools including multiple camera selection, virtual backgrounds, audio device selection, content sharing, collaborative white-boarding, recording and more. Yet many users do not take advantage of these tools as it can be intimidating and confusing. As a result, your organization is not getting full value from your investment in that particular platform.
Interactive Audio Visual offers online training courses for the most popular video calling platforms. Your team members can participate from their office or home office.
| Model | Part Number | Price |
| --- | --- | --- |
| MS Teams Online Training | Training (Online) | From $1,750.00 |
| Zoom Online Training | Training (Online) | From $1,750.00 |
| Cisco WebEX Online Training | Training (Online) | From $1,750.00 |
---

Executive Office
Model
Description
Price
WFH-Exec-1
Single Bay standalone credenza, c/w 65-in 4K resolution display, plus
Poly X30 video-soundbar for MS Teams or ZOOM, plus Poly TC8 touch control panel
$8,355.00
WFH-Exec-2
Single Bay standalone credenza, c/w 65-in 4K resolution display, plus
Crestron FLEX UC video-soundbar for MS Teams or ZOOM, plus Crestron
touch control panel
$9,265.00
WFH-Exec-3
Dual Bay standalone credenza, c/w 75-in 4K resolution display, plus
Poly X50 video-soundbar for MS Teams or ZOOM, plus Poly TC8 touch control panel
$12,830.25
WFH-Exec-4
Dual Bay standalone credenza, c/w 75-in 4K resolution display, plus
Crestron FLEX UC video-soundbar for MS Teams or ZOOM, plus Crestron
touch control panel
$12,317.00
WFH-Exec-5
Dual Bay standalone credenza, c/w 70-in 4K resolution SHARP WINDOWS
COLLABORATION Display, (NUC PC not incl.); Multiple inputs, built-in
webcam and speakers, wired & wireless sharing, World's First Microsoft
Certified Interactive Collaboration solution
$17,220.00
On-Site set-up and configuration
CALL For Details
Click to get Quote